Right before the start of the Holiday Season, Amazon launched a new tool, the Listing Quality Dashboard on Seller Central. It helps Sellers and Brands to identify and fix listings in one place.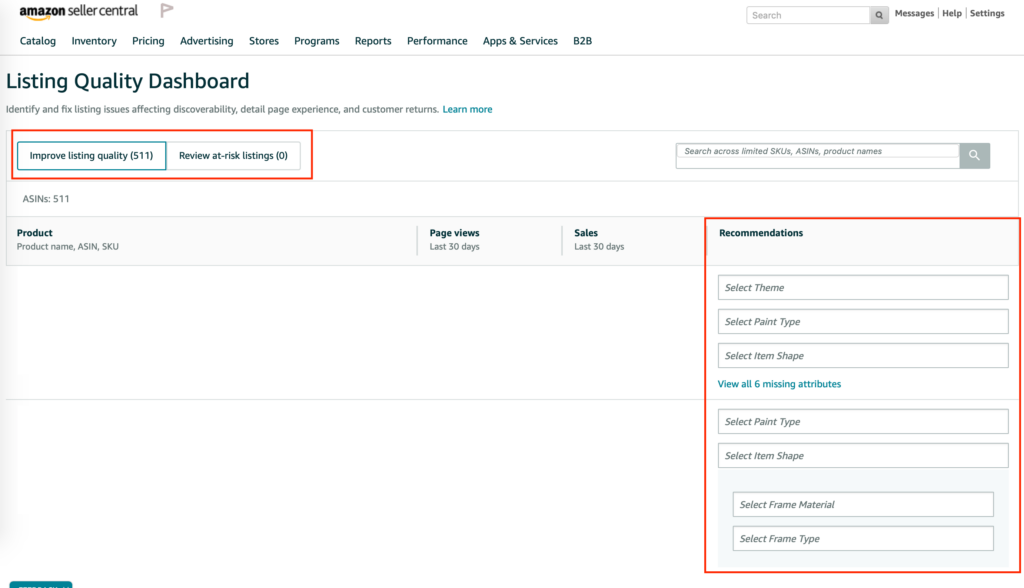 The Listing Quality Dashboard aims to:
Improve discovery: Customers filter their search results using specific attributes. Adding these attributes will ensure that customers don't miss your product when it meets the customer requirements and the filters are used.
Enable the Product Overview experience (beta): Product Overview is a new experience that will highlight important product attributes above the bullet points on the product detail page. This will help customers evaluate your product easily and make a faster buying decision. This experience is currently available for a limited number of product types and we are working to enable this for more product types.
Potentially reduce customer returns: Customers often return products due to a lack of critical product information on the detail page, e.g. compatibility features for headphones and cables. By adding more information, you might reduce the number of returns.
Take time-sensitive actions: The tool will highlight listing information that needs to be filled in by a certain date in order to prevent possible suppression.
Amazon recommends to check this Dashboard once a week, to make sure all listings are up to date and there are no missing information. You can find the new Listing Quality Dashboard by going to:

Inventory > Manage Inventory > Listing Quality Dasboard
Useful new Dashboard – Finally!
We at Barrel Aged E-Commerce believe that a feature / dashboard allowing you to enter missing attributes was overdue! Also, the timing could have not been better: With 2 months till the start of the holiday season, the launch in August gives Brands and Sellers enough time to update and edit listings if required. The best part: You can edit all listings (Parent and Child SKUs) in one place!
Listing Quality Dashboard Best Practices
Tip 1: Check the Dashboard at least once a week. The system behind the dashboard updates on a real-time basis to find missing attributes. Check it frequently and update as required.
Tip 2: Use Sales and Page Views to prioritize your recommendations. As a Brands with 100s of listings, you might have to add a lot of information. Amazon mentioned, that there will be a functionality to sort via Page Views or Sales soon.
Tip 3: Mark "Not relevant for this product" option when needed. Amazon built this feature to recognize that there might be attributes that are not relevant for your product. If you select "Not relevant for this product" it will let Amazon know and enables them to improve their recommendations.